Tuition and Teaching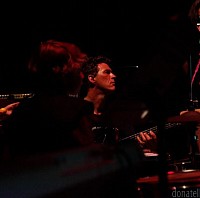 Working with primary students at Byron Community Primary School .
About education services 
I can offer a personal practice strategy and development plan to all levels of students as a standard feature of all individual tuition.
At Byron Bay Community Primary School I co-taught the year 5 and 6 band projects for over a decade. This positive and productive period contributed to the school's progressive curriculum culminating in a large body of around 60 original recorded works over the decade.

    Former instrumental music coordinator for Saint Gilgen International School in Austria and now available for limited online or private lessons by special arrangement, please see the contact page or click here for contact 
    My tertiary formalities include,
    Diploma of Music (3 years) specialising in Jazz and improvised music from the Victorian College of the Arts in Melbourne  (Now part of the University of Melbourne )
   Post Graduate Certificate of Music Studies from the Queensland Conservatorium at Griffith University in Brisbane Australia. Rated at academic level 8.
I am also certified and experienced in both "Children's Services" and "Adult Training Education and Assessment"  and have undertaken some basic Steiner education and theory training as well.