About
Intro
Thierry Fossemalle, has been a professional bassist since the late 1980s.
Born in Melbourne Australia he has lived in Holland, France, Switzerland, Germany, Sydney, Byron Bay and currently resides near Salzburg Austria.
He has performed thousands of gigs and played on hundreds of recordings on double bass and electric bass. 
Known widely for diverse stylistic adaptability, solid grooves that provide  flawless foundation, his musicianship is frequently utilised by recording artists, producers and live performers.
He has performed at every major festival in Australia and many in Europe.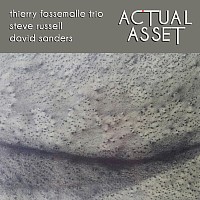 Featured
This trio album released in January 2017 , showcases the talents of Steve Russell and David Sanders performing my compositions in a traditional acoustic jazz trio format. Digital versions which include charts of the compositions , a few photos and a short film clip are available here for AU$12 https://thierryfossemalle1.bandcamp.com/album/actual-asset 
Hard Copy CDs are available on request. POA.