Jazz and Art Music
Jazz and Improvised Music is a journey and passion I have pursued throughout my career and continues to be the main element of a continuous musical development .
Above at the very top is a clip I shot and music I wrote and performed on my album Actual Asset.. It features Dave Sanders on Drums and Steve Russell on piano.
Below that is a clip of Steve and I with Jamie Pattugalan, live at the Northern Hotel in Byron Bay.
F.A.T.S.
An Acronym of Our surnames Fossemalle , Ades (David) ,Tinkler ( Scott ) ,Sheehan (Greg ).
This group of Bass ,Alto ,Trumpet, and Drums respectively, was formed in Byron Bay  around 2000 and recorded 2 Studio Albums to some critical acclaim . My generic label for our style is "Jazz Punk " as we pursued a gritty edge in most of our compositions and arrangements . 
Musiikki Oy 
Melbourne 
Ted Vining, Ian Chaplin, Peter Harper, Ian Dixon, Tony Paye Sam Keevers, Adrian Sherriff, Greg Rossa have all been Part of Musikki Oy at some stage. A work ground for free improvised music, high energy and progressive composition, Musikki Oy is a institution in itself.. Since it has incarnated into "The Big One" and "Blow"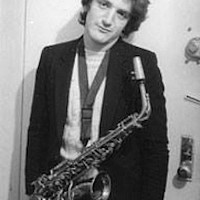 Please allow me to share this free album with you.
The legendary Australian Saxophonist ,David Ades who passed away a couple of years ago was an extraordinarily prolific instrumentalist. He also found time to help many people less fortunate than himself beyond normal expectation. He was a fearless surfer, a father and a wise friend . This work, the 14th Step , was recorded at the Muse Agency in Byron Bay and features myself and the awesome talents of Will Guthrie on drums .