Blog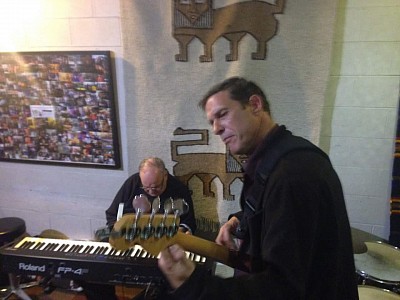 Bobby and I..
last week was a total blast playing with Bob sedergreen Peter Harper Ian Dickson and Sam young at the horn in Melbourne what a privilege
Hello again , just put down some Bass Improvs with the highly talented all rounder Christian Pyle
You can hear them right HERE
An excellent day it was too .
Or Buy the Album Here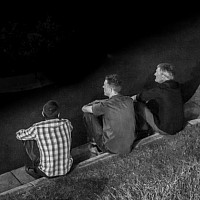 Hello, after some time away from here , an update is well over due . After recording 12 new works with the fantastic , Steve Russell and David Sanders late last year , Simon Grieves ,the multi talented engineer , Musician ,Composer ,arranger and producer is tweeking his way to satisfaction . The Album , that i have not named yet , will be available around Mid Feb 2016. This picture by Simon Fraser will feature in its presentation . As the components of this project align themselves i will be seeking live performance opportunities and i hope to see you at some of those during the winter time .
Live performances with the power house Lisa Hunt and band are continuing this summer and well into Autumn on a regular basis up and down the East Coast.
I will also feature with such artists as Swing Central , Harry Nichols , The Camel Tones , The Dirty Channel ,Mohini Cox and Leigh Carriage at various times and places over the next couple of months.
Teaching wise i am beginning the 2016 Education year at Byron Community Primary School and Southern Cross University , facilitating music ensembles .
Since it's been a while since my last entry , here is an update of progress in a general sense .
My Trio Project with Steve Russell and Dave Sanders is Still on the simmer. Material is 90 percent done with just a couple of sheets to tidy up before throwing them onto the stand . It will be a diverse batch of works drawing and manipulating various influences and styles into a classic Jazz trio format . Influentially I could throw names such as Monk, Joni Mitchell, FATS, Ron Carter , Ornette , at it … and I just did . Recording is planned to begin in a couple of weeks and the aim is to have it available for digital download by Christmas . Yes another Christmas Album! . No reindeer or little helpers were harmed in the production of this work.
On a more instantly accessible note ,the Lisa Hunt Forever Soul machine is out and about and very likely coming your way . Website updated , links to the upcoming gigs can be found Here .

The Swing Central Crew are also pretty active . Fronted by Brad Lever this mini Big Band deliver great and faithful renditions of classic Male Crooner Jazz ,directed by Ian Macrae ,always an enjoyable outing !
I was also privileged to be included on the final session at 301 Byron Bay with Gold Coast singer songwriter and performer Casey Barnes .The track has managed to get some legs and is grooving its way into good places , reaching some ears ,hearts and minds . Nick DiDia produced the session , Scott Hill on Drums . Very Nice company to keep . Go Casey !
My first trip to New Zealand in August was an awakening of sorts , a truly astounding place . Point the camera in any direction and a postcard worthy image results . I will throw a few up here pretty soon .
Played a really nice gig with The Camel Tones last night at the Billinudgel Pub , a classic down home Nth Coast Hotel . Might even be some footage Here !......eventually .......
OK ….off to Yamba right now and then Port Macquarie Food and Wine festival tomorrow , Hobart on Wednesday , Gold Coast Arts Centre on Friday ….better get some socks on .. Thanks for reading !
So winter is here and the Lisa Hunt soul train is on a 3 month break, some chasing a Northern summer , which is understandable ,and others sticking out the harsh East Oz winter ( rarely below 10c on the coast !). A holiday you say ?, well no , not even close . Several gigs with Swing Central , an upcoming concert with vocalist Parissa Bouas and a number of other jazz related excursions combined with some other session work , Uni tutoring and various primary school projects will ensure its a steady , but not hectic winter.
Still chipping away on the Trio Jazz Project as well so stay tuned for that to be on track for August.
Hello and welcome to my pages and to this blog .
I have been steadily adding content and arranging pages , finding album artworks, you tube videos and trying to remember and add things from my past professional undertakings, it adds up to heaps of material over a few decades. My guess is its about half done at this point .
In this section I hope to be able to update current activities of both the professional and recreational variety and to add other items of interest to me . Probably more in the photographic realm . Stay tuned !
enjoy.
So ...latest news from me is my recent application to attend a creative music intensive hosted by the Australian Art Orchestra or AAO. Lets hope the recent funding cuts don't effect the running of this fantastic initiative . Check it out here .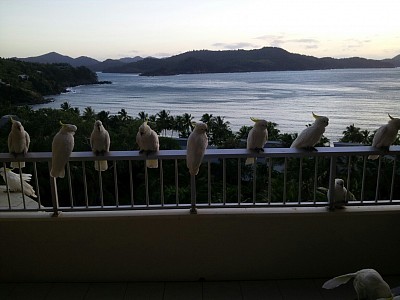 Sulphur crested cockatoos at dawn Hamilton Island
During the last few months i have grabbed a few reasonable shots whilst out and about the east coast. Here are a few of them
Please allow me to share this free album with you.
The legendary Australian Saxophonist ,David Ades who passed away a couple of years ago was an extraordinarily prolific instrumentalist. He also found time to help many people less fortunate than himself beyond normal expectation. He was a fearless surfer, a father and a wise friend . This work,
the 14th Step
, was recorded at the Muse Agency in Byron Bay and features myself and the awesome talents of Will Guthrie on drums .
So the past few months have been a busy period with much travel and many shows with the force of Soul and Disco , Lisa Hunt. Add to this my regular teaching commitments etc etc , and its been a solid period with tons of music , and thats good !Coming up later this year is my Trio project with Steve Russell and David Sanders . I have been penning the material during the past few months and we start rehearsals in a month or so . Essentially a Jazz Trio format , Piano Double bass and Drums , it will be recorded at the Muse agency in Byron Bay in early August and will be available for a voluntary price shorty after .