Tuition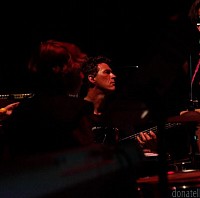 As a Tutor my services were regularly utilised by Byron Bay Community primary School in the year 5 and 6 band project for over a decade. This has been a positive feature of the schools curriculum.
I am currently Instrumental Music coordinator for Saint Gilgen International School in Austria. I am therefore only available for limited online private lessons by special arrangement outside of the school program.
My Tertiary formalities include a Diploma of Music specialising in Jazz and improvised music from the Victorian College of the Arts in Melbourne and a Post Graduate Certificate of Music Studies from Griffith University in Brisbane Australia.
More practically speaking my vast professional experience and proven track record are priceless assets to any private or group session.
A customised and totally individual personal practice strategy and development plan is a standard feature of individual tuition.
Being Certified and experienced in both "Children's Services" and "Adult Training Education and Assessment" , adds additional perspective and a broad skill set to the art of teaching .